"Cheesy" Turmeric Cauliflower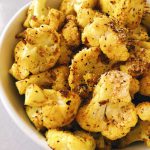 The perfect healthy side to any meal and so simple to make!
Prep Time:

3 mins

Cook Time:

7 mins

Total Time:

10 minutes
Ingredients
Cauliflower florets
Ghee or grass-fed butter
Sea salt
Black pepper
Turmeric
Nutritional yeast
Instructions
Wash and chop cauliflower into bite-size florets.
Add a good amount of ghee or gass-fed butter to a large pan on the stove and turn on high to melt.
Once ghee/butter is melted, add cauliflower florets to the pan and mix so all florets are coated. Add more ghee/butter if needed.
Mix occasionally until cauliflower florets start to burn just a little bit, then lower heat to medium or medium-low.
Add all the spices: sea salt, black pepper, turmeric and nutritional yeast.
Cook for about 7-10 mins while mixing occasionally until it's reached desired tenderness.
Notes
I don't have measurements for this recipe because it's really up to you. Make as much as you want and add as much ghee/butter and spices as desired!