A simple and nutritious one-pan meal that I make ALL THE TIME! It's so delicious and easy to clean up, too!
---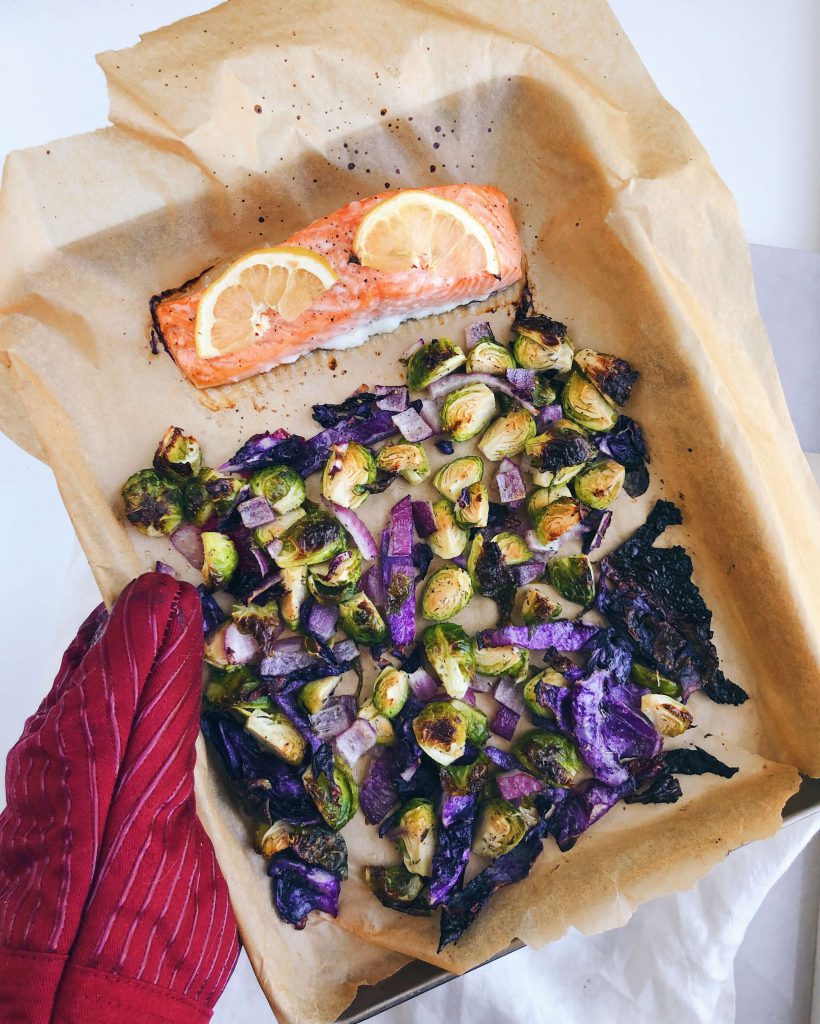 My favorite meals are the ones that are healthy and filling, but also are easy to make and easy to clean. That's why I love the beauty of a one-pan meal! Everything cooks in the oven at the same time and then you only have one pan to clean.
And this one-pan meal is my favorite because I'm absolutely obsessed with salmon and also love brussels sprouts!
Buying Your Salmon:
Salmon is my favorite. It's filled with amazing omega-3 fats that are so incredible and healthy for you. Salmon also minimizes inflammation in your body and can help you have beautiful skin! I've also noticed that eating lots of salmon and other healthy fish regularly reduces any pain I get from my menstrual cycle.
I always try to choose wild salmon if I have the chance, but there are some okay sustainable options as well. Just be sure to investigate and learn how the fish are raised if it's labeled sustainable. I usually buy my salmon from a local shop in Newport Beach, but sometimes I will order online from Alaska Gold Seafood. They have an amazing selection of salmon: all wild, flash-frozen and shipped right to you. I'll buy a bunch of salmon in bulk and have them for the next two months or so. They also have other fish options, too!
Ingredients for My Favorite Easy One-Pan Meal:
Salmon
Veggies: brussels sprouts, purple cabbage, and red onion
Spices: sea salt, black pepper, garlic powder, and thyme
Avocado oil
Lemon
I don't have any measurements listed for the ingredients, as you can choose to have as many veggies, salmon filets, spices, etc. as you prefer.
How to Make My Favorite Easy One-Pan Meal:
First, start by preheating the oven and lining a baking sheet with parchment paper. When I'm just making lunch or dinner for myself, I only need a small baking sheet as pictured. But if you're cooking for more than 1, then definitely use a large baking sheet.
Then wash and chop the veggies and add to a bowl. Add in some avocado oil and mix together – be sure to add enough so that all veggies are lightly coated. Then add the spices and mix again.
Place the veggies on one side of the pan and then place the salmon on the other.
Top the salmon with salt, pepper, and lemon and place it in the oven!
It's important to note that baking times for salmon can vary based on the type of salmon and thickness. If you're using a King Salmon (pictured here), they are much thicker (and tastier, too) so they require usually around 25 mins of oven time. But if you're using another type of salmon, like Coho Salmon, these are much thinner and usually require half the amount of time, if that. If this is the case, you can just add the salmon to the pan a little later, so they will finish around the same time.
Enjoy!
Scroll down to get the full recipe or pin it for later!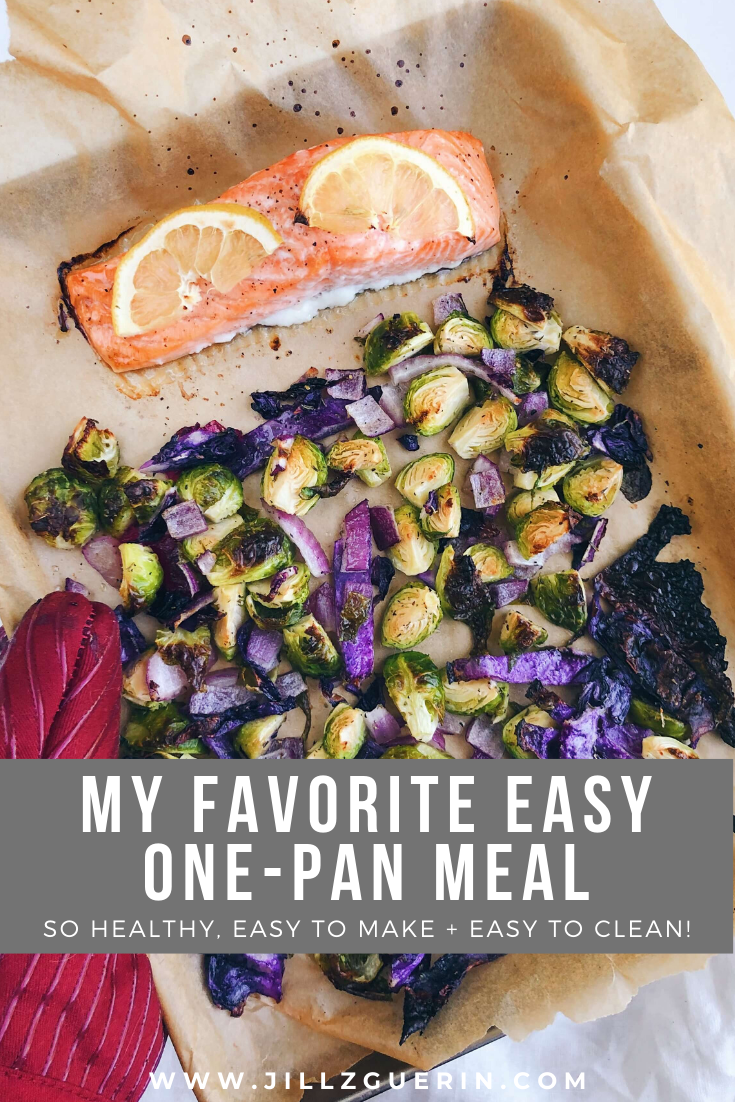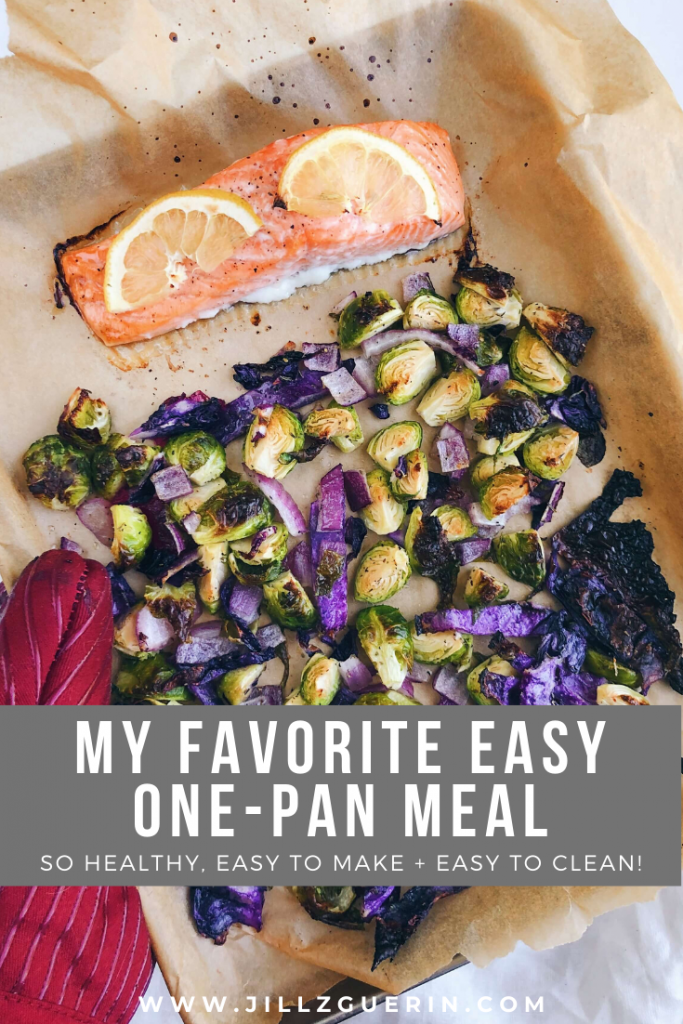 Print
My Favorite Easy One-Pan Meal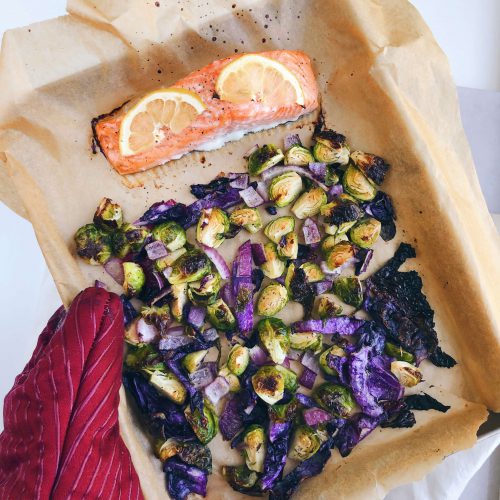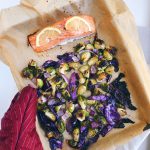 A simple and nutritious one-pan meal that I make ALL THE TIME! It's so delicious and easy to clean up, too!
Prep Time:

10 mins

Cook Time:

25 mins

Total Time:

35 minutes
Ingredients
Salmon filet
Brussels sprouts
Red onion
Purple cabbage
Sea salt
Black pepper
Garlic powder
Thyme
Avocado oil
Lemon
Instructions
Set the oven to 400°F and line a pan with parchment paper.

Wash and chop veggies and mix in a bowl with avocado oil so all veggies are lightly coated. Then mix in sea salt, black pepper, garlic powder and thyme to the veggies.

Add veggies to one side of the pan.
Then add the salmon to the other side of the pan and top with sea salt, black pepper and lemon by squeezing some fresh lemon juice on top and topping with some lemon slices.
Bake in the oven for about 20 mins and finish with a broil for about 5 mins.
Notes
As mentioned in the blog post, the baking/broiling time for salmon may vary depending on the thickness of the salmon.
To make it simpler, you can choose to not broil and instead replace the 5 min broil time with an additional 5 min baking time. It will still be delicious, but with slightly less crip on top.